Spring 2017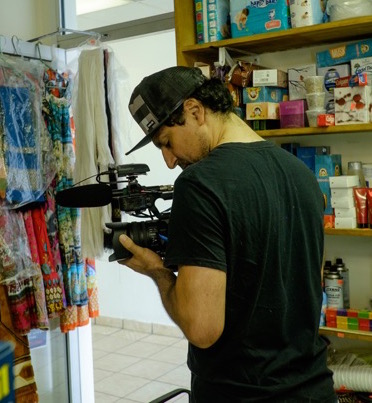 Yehuda Sharim. Houston in Motion is a collaborative research project that sheds light on the process of refugees and immigrants in Houston. Through interviews with newly-arriving refugees and immigrants, the project develops a digital archive of migration that includes ongoing filming, working with Rice students and media editors to process and publish digitized testimonies online. The digital platform being developed with this purpose will be shared with new arrivals, existing communities, and members of the public through partnership with organizations including Houston Public Libraries and the Mayor's Office of International Communities. Summer-Fall 2017.
Dr. Sharim's film, We Are In It, will be screened at Rice Cinema on Saturday, February 18 and on April 15; it will also screen in Turen, Copenhagen, and the Holocaust Museum.
---
Entre el Amor y la Locura
Christopher Sperandio. Harris County has the second largest Hispanic population in the US; this exhibition on Mexican culture and history in Houston will connect with the cultural heritage of Mexican-American community through a partnership with Lawndale Art Center, one of the most lively and inclusive art institutions in the region. Nearly 1,000 pieces of original art will be preserved as high-resolution digital scans, translated into English, and potentially exhibited at Lawndale in late 2017/early 2018.
---
Previous Events
Gnostic Film Festival
April D. DeConick. A film festival to be held at Rice Cinema, on March 24-26, 2017. The purpose of this festival will be to raise public awareness about the significance of the gnostic religious current in modernity and its impact on public culture in America. The films are: The Matrix, The Truman Show, Pleasantville, Dark City, Avatar, and Altered States. The films will be introduced by undergraduate and graduate students enrolled in RELI 451/581, and will be followed by a discussion and Q&A sessions.
---
Health Humanities Masterclass Speaker Series
Melissa Bailar. In an innovative masterclass format, faculty from Rice University, University of Texas School of Public health, and University of Houston, as well as practitioners in the Texas Medical Center, lead class discussions on different aspects of the health industry today. The class meets Tuesday evenings at the McGovern Museum of Health and Medical Science and at Rice Thursdays at noon. Students read essays, case studies, and fiction or watch films to prepare for each discussion.
---
The Art of Energy
Joseph Campana. The Art of Energy represents an exhibition and series of activities that understand visual art and aesthetics through the rubric of energy. This project will consider energy use and dependency, extraction and consumption, distribution and infrastructure, to discover a dynamic relationship between how energy structures aesthetic experience and how art and artists reflect on energy.
---
Collections Analysis Collaborative Symposium
John Hopkins. October 17-19, the Collections Analysis Collaborative (CAC) will hold a symposium of scholars from across the United States. At "Collaborative Futures for Museum Collections," the first findings from a year-long study of the Menil collection's object records and artifacts will be presented. The presenting scholars investigated the biography, history and significance of works in the collection in order to explore how open collaboration between museums and scholars can shed new light on the collection and on challenges that face art historians, archaeologists and museum professionals in a new era of cultural stewardship.